The room tidy up with the storage box will present a neat condition
Jun 23,2022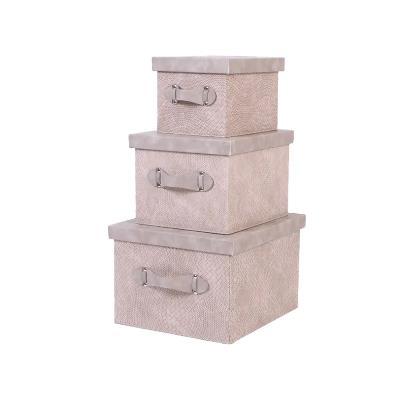 First, the advantages of plastic storage boxes:
1. The plastic storage box is generally made of PP plastic. Among the general-purpose plastics, PP has the best heat resistance, and its thermal deformation temperature is 80-100 ° C, which can be boiled in boiling water. PP has good stress cracking resistance and high flexural fatigue life, commonly known as "folding glue".
The comprehensive performance of PP is better than that of PE material. PP products have light weight, good toughness and good chemical resistance. In daily life, the commonly used plastic storage boxes are made of PP materials.
2. The characteristics of the plastic storage box are that the upper and lower covers are connected, the buckles are locked together, and there are movable handles that go into the grooves. Its own transparency can effectively display the items contained inside, which greatly increases the viewing experience. The advantage of the plastic storage box is that it is durable, not afraid of water, and easy to scrub.
Second, the disadvantages of plastic storage boxes:
The plastic storage box is connected with the upper and lower covers, and the buckles are closed, but the sealing is still lacking, and small reptiles can still invade; in addition, the air permeability of the plastic storage box is not as good as that of the non-woven storage box, if it is not too dry The clothes and quilts are stored for a long time, which is easy to breed mold.
How to choose a storage box is as follows:
1. Look at the pictures, details, no damaged edges, reasonable structure, practical and strong.
2. Look at the color, some colors are too fake at first glance, don't be deceived by the eyes, some pictures from P are good-looking, but they are not as simple as the pictures taken.
3. Looking at the source of goods, the quality of the manufacturer will generally be better, but it is difficult to guarantee the consignment and distribution.
4. Look at the after-sale service, the after-sale service is guaranteed, and you can rest assured after buying it.
Storage is a necessary knowledge in
Fashion Shoulder Bag manufacturer
life. It takes skills and determination to find a balance in a limited space. Daily storage and organization is to make more use of space, improve living environment, improve time efficiency, and create an orderly living space. Therefore, storage is not simply to store items, but to use items efficiently. So how can we rate it? Of course, it is to "throw away" all the worthless clutter, leaving only what is needed and practical. Of course, streamlining objects is not a blind pursuit of "nothing". Simplicity may generate new anxiety. Find the balance between people and objects in a limited space, and create your own moderate beauty! When you habitually choose storage boxes to store various items, it will bring a lot of benefits to your life: For example, 1. The room tidy up with the storage box will present a neat condition, unlike the It used to be so messy and piled up everywhere, this is the first 2. The storage box can not only make the room tidy, but choosing a good-looking storage box will also become a landscape line and a corner of your room. This is the second 3 .Stored room is easier to find your target than untidy room, reducing unnecessary time to waste on trivial matters, this is the third 4. The tidy room can also give people a visit when the door guests visit Leave a good impression and add impression points to relatives and friends. These are the four advantages. Are these advantages not enough for you to choose to do storage? You still feel that storage is an expensive and useless thing. In today's society, storage has become very important. Don't say that storage is not important anymore, learn to store, and welcome a different good mood every day.